Year 10 pupil, Finn is part of the British gymnastics young leadership award scheme. As part of this the young leaders take part in various workshops from Introduction to coaching, volunteering, what it takes to run a club, safeguarding and so much more. The more the young leader takes up the more credits they receive in order to reach the Gold award.
Volunteering is a huge part of the award and Finn has over 40 hours to complete, from small competitions, coaching and official events.
In February he was an official volunteer at the Lowry theatre in Salford for The British gymnastics 'Gymfusion' show. Over 60 gymnastics clubs perform and Finn was part of the backstage team, helping to make sure the performers made it to stage on time.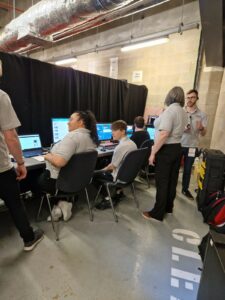 Finn did such an amazing job that he was asked to volunteer at the British Gymnastics championships at the M&S Arena, Liverpool last week. Here Finn helped running the score sheets between the many judges and officials, but his favourite job was working alongside the media team BGTV. He helped with the lighting during live interviews & editing of the gymnasts routines which he then uploaded to you tube and live BG Score app so that the public could keep track of the competing gymnasts. This is the biggest event in the British gymnastics calendar and is the competition that every gymnast aspires to qualify for. Due to an unforeseen injury Finn was unable to compete to qualify this year, however we hope to see him at next year's championships and this opportunity has certainly inspired him to put in the hours and work to get the needed skills in order to compete alongside his peers.