Jack in Year 4's family are raising £500 to help raise much needed funds for Manchester Adult Cystic Fibrosis Centre who care and support people living with Cystic Fibrosis.
Jack, lost his dad, Dean at the age of just 46 from the effects of cystic fibrosis as it is a life shortening genetic disease. During his life Dean spent a lot of time, since the age of 16, going to the Manchester Adult Cystic Fibrosis Centre who helped control his health. However, they meant much more to him than that – the MACFC professor, doctors, nurses, physios, chefs and other staff who work within the unit became trusted friends to him and to us as a family.
Therefore in Dean's memory and to celebrate what would have been his 50th birthday his wife Joanne, daughter Leah and two sisters, Vicky and Katy and other members of the family decided to try to raise money by taking on the challenge of walking from Wythenshaw hospital to Deans beloved Ewood Park in Blackburn. Approximately 50 km!  His son Jack walked the last part (5km) with his younger cousins so the family all finished together at the Jack Walker statue – one of Deans hero's and Jacks namesake.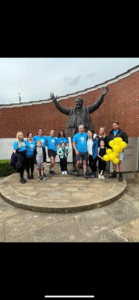 It was quite emotional at the end with aches and pains a plenty but everybody was relieved they had completed it. If you would like to donate to please visit our justgiving page on the link below.
https://www.justgiving.com/crowdfunding/dean-oates-readett-macfc?utm_id=125